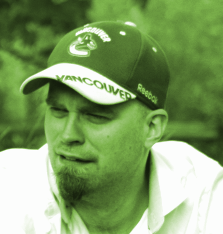 General information: (Written in 2017 and updated in 2020)
I was born in 1982 in Sweden, Halmstad (directly translated: City of Straw). I moved around the country as young but spent the biggest part of my childhood in Härnösand (directly translated: Here sneezed duck). I met my wife in South Africa in 2006. Now we live in Uppsala (directly translated: Upward ward A) with our two children.

Music has always been a important part of my life. My father is also a musician and some of my most founded memories of our relationship was around music in one way or another. He would have me listen to different songs as a young kid and he helped me develop a basic set of understanding of music early on. It was also like a great event for me when I was allowed to hang out with my older siblings when they listened to music or played video games. I started to record ideas and idle gibberish at the time my siblings played "radio channel", when I was five years old. When I started school the teachers were baffled at my bad eye sight and I quickly got glasses with strong prescription. I continued to rely on my hearing ability even when my sight got clearer and when I finally got hold of a good computer program for music making in 1996, I was dedicated for life. (Added part from 2020)


Game music projects in the past:
I've been apart of a few small game projects over the years, here are a list of games that I've done music for (Not counting current projects):
Across + (1 track)
Barricade (4 tracks)
Darkpryzm puzzle game (2 Tracks)
Dice of Chaos (14 Tracks)
Fallacious Gear (1 Track)
THE Game (8 Tracks)
Hazard ball (5 Tracks)
Legion (8 Tracks)
Lyle in Cube Sector (2 Tracks)
Neptune (11 Tracks)
Nibbles of Lemonride (8 tracks)


Musical gear and knowledge:
Most of my musical knowledge is self taught. I have, however, gotten a lot of help learning instruments from my brother Johannes and help learning programs from my friend Björn H. I spent a year in a senior high school with musical orientation, but I never spent much time in school those days. Instead I sat at home, learning new stuff in Fast Tracker 2. The only thing I regret about that decision is that I never honed the skill to read sheet music. I currently own four acoustic guitars, three electric guitars, one electric basguitar, one ukulele and two keyboards - as of 2017. Over the years I've tried different music programs, sometimes I've had to change current "go to"-music program to sync with newer operating systems or the increase of file sizes. Here are the programs I've used to make music over the years:
Cool Edit 2.0 (I made almost all my earlier albums in Cool Edit, mixing and mastering took a long time)
Cubase [2002] Launched a serious but brief try with midi in 2002. Bought expensive gear, only got errors.
Fast Tracker 2 [1996-2002] Something of a "first love" - I've made thousands of projects in this one.
Garageband [2012] Took over from Renoise in 2012, when I finally switched to MAC for music making.
Logic 9 & 10 [2013 ->] Bought Logic in 2013, (almost) never looked back.
Modplug Tracker [2003-2011] Mostly used for making drumbeats to combine with Cool Edit projects in 2003-2006.
Renoise [2011-2012] A great modern tracker, used a lot in 2012.
Skale A program that made me feel the old "FT2-vibes" for a while, sadly unreliable and never past beta.


Musical influences:
Growing up, I always treated music as a important part of my life. It was a stable constant while other parts seemed more chaotic. I listened to many different genres and found early on that I generally liked different songs than most others. I don't often tend to go with the flow of mainstream music, I liked the group Kent a long time before they became popular, for instance. Here's a list of groups and Artists that have inspired me over the years:
A-Ha (Best song: Take on me (big suprize))
Adele (Best song: Set Fire to the Rain)
Alice in Chains (Best song: Nutshell)
Barren Cross
Believer
Betrayal
Bing Crosby
Blindside (Best song: Midnight)
Bloodgood
Bo Kaspers Orkester
Bob Hund
Bon Iver
Bride (Best song: Fallout)
Chao Zou Ensamble
Charlies Hårfager
Charta 77
The Charioteers
Coldplay
College (For their contribution in the movie "Drive" with "A real Hero")
Creed
cRim :)
David Grey (Best songs: Lately & Please forgive me)
DC Talk (Best song: Say the Words (Now) remix)
Dem Lyckliga Kompisarna
Deliverance
Depeche mode (Best song: Enjoy the Silence)
Detritus (Best song: Subtle Shades)
Dia Psalma
Doris (Best song: Did you give the World some love today, baby)
Duffy (Best song: Stepping stone)
Dune
Dvorák
Eddie Vedder (Best song:
Edward Elgar
Enya
Extol (Best song: The Pearl)
Foo Fighters
Frank Klepacki
Frank Sinatra
Galactic Cowboys
Genesis (Best song: Please don't ask)
Glenn Stafford
Grieg
Holy Soldier
Iona (Best song: Bird of Heaven)
The Jacksons (Best song: Blame it on the Boogie)
Jamiroquai
Jars of Clay (Best song: The Eleventh Hour)
Jeremy Soule
José González
Kent
King's X
Krys Talk
Marcos Witt
Matt Uelmen
Melody Gardot
Michael Hoenig
Mortification
Motoaki Takenouchi (Best song: And then...)
Newsboys
Nick Drake
Nora Shulman & Judy Loman (Their work together in "Dance of the Blessed Spirits")
Pearl Jam
Petra
Phil Collins
Pjotr Tjajkovskij
Rebecca St. James (Best song: Lest I Forget)
Soundgarden
Sting
Strebers
Stryper
Tom Stacy, Rob Mathes & Joe Bonadio (Their work together on "Silent Night")
Tourniquet
Ty Tabor (Best song: Live in Your House)
Vengeance Rising
Vibafemba
White Heart
Whitecross (Best song: Walk with Me)
Yiruma


Musical group history:
Apart from releasing a lot of songs by myself I have also been a part in several temporary choirs and bands. Most of the named music groups and projects are listed below:
Axelbandet (Jazz. All covers. We only played once, at a school ending. I played bass guitar.)
Axel & David (Christian pop. A serious project attempting to make a album dedicated to our faith. Made the days after a neighbor committed suicide.)
The Champions (Synth songs. I played synth and sang. Maybe some of the funniest songs I've ever recorded.)
Cottification (Ohh, I don't know what to call this...:))
Detached Ignorance (A more serious rock side project with English lyrics)
Ewen (Pop & Rock. The lifelong project I have together with my brother. I've played guitar, synth, bass and other stuff over the years. We have made a lot of short songs).
Fungus (Synth music. I played synth, obviously. My first attempt to form a music group. I played the bass comp and high midrange while my friend played melody and low midrange.)
KondensKungen (A experimental instrumental project that mixes genres as I see fit, always using samples starting with the same letters.)
Los Hereditos (Pop & rock. I played guitar and sang. We wrote most of the songs while we rehearsed, see the DAMP album in my discography.)
Gammis & Dronten (Pop & Rock. We swish roles and instruments for every song, much like the Ewen project this project will hopefully and seemingly go on forever, even if not that active atm.)
Gammis & Klåpfinger (Punk rock. I write songs and start to record them but instead of finishing them myself I send them to my brother so he can add whatever he like. It's like a surprise party the whole way. Already released one album, hopefully we're not done yet.)
Gammis, Sibbe & Struten (Pop & Rock. What we call ourselves when I make music together with my children.)
Highway (Rock; something in line with Grunge. I played guitar and sang. This band was my pet project while in my late teens. We never got the group to function as we had envisioned however. Made a tribute album in 2005.)
Mutual edification (Metal & Rock. I played guitar and sang. I started this project as a metal band, writing a lot of hard metal songs for it. When I later formed the crew for the project it turned more and more into a rock band. We were really great live in 2004.)
Nerd Chills (A electronica side project, mostly about freshening up old Fast Tracker tunes.)
One Future Plan (Mixed styles of rock, mostly covers. I played bass and sang lead in a few songs.)
Tillsvidare (Punk rock. I played bass guitar. I wrote one or two songs, was content with being a less driven part of the group. We played at various places and even earned a few bucks.)
Vrah Teseni (Metal. I sang and played guitar. One song :))
Ökänd artist (Just for laughs)


Gaming history:
In my opinion, there are a lot of really good and enjoyable games in almost every game genre. I'm a bit of a "all-eater" in that sense. I have, however, tried a lot of games that I did not like as well. Looking back, I realize that the strongest factors that has made me stick to certain games over the years has been the music, customization and tactical challenges. I always start at the hardest available difficulty.

I have spent a lot of my life playing multiplayer games. In 2000-2001 I was the leader of a semi-successful Counter-Strike team called Lemonride. We climbed up to 2nd spot in the Swedish 5on5 ClanBase ladder at one time (out of 900+ active clans). We also won a few LAN tournaments. I learned a lot about being a part of a team in those days. Now I still play with friends quite regularly, but only in a more casual sense.

Since multiplayer games often lack musical content, I've always been more focused on creating music for singleplayer games. There are some game titles that has inspired me greatly. I like to give thanks to Jeremy Soule for his work in Skyrim, the song "Whiterun" is one of my all-time favorites all music genres included. I also like to mention Matt Uelmens work in the Diablo series, Michael Hoening for making the songs for the first Baldur's Gate game and Glenn Stafford for his creations in StarCraft.

Storylines I've finished:
A Plague tale: Innocence
Alien Swarm
Baldur's Gate (+ expansion)
Baldur's Gate 2
Bioshock
Blackguards
Borderlands
Borderlands 2
BOT.vinnik Chess: Winning Patterns
The Bureau: XCOM Declassified
Call of Duty: Modern Warfare 2
Command & Conquer
Command & Conquer: Tiberian Sun
Crysis
Cyberdogs
Defense Grid: The Awakening (all DLC)
Diablo
Diablo 2 (Really high level characters)
Diablo 3 (Five Level 50 Characters - never played the expansion)
Divinity: Original Sin (Classic)
Dragon Age: Origins
Dying light
The Elder Scrolls IV: Oblivion
The Elder Scrolls: V: Skyrim (both original and Special Edition)
Encased
Fallout
Fallout 2
Fallout 3
Fallout 4 (all DLC)
Fallout 4 VR
Fallout Tactics
Fallout: New Vegas
Golden Axe
Grim Dawn
Guardians of Graxia
Heroes of Might & Magic III (all expansions)
Icewind Dale
Icewind Dale II
Incubation
King's Bounty: Armored Princess
King's Bounty: Crossworlds
King's Bounty: The Legend
King's Bounty: Warrior of the North
King's Bounty 2
Lemmings
The Lord of the Rings: War in the North
Mad Max
Mass Effect
Mass Effect 2
Metro 2033: Redux
My Time in Portia
Need for Speed: Undercover
Need for Speed: Underground 2
Orcs Must Die!
The Outer Worlds
Pillars of Eternity
Pillars of Eternity 2: Deadfire
Planescape: Torment
Plants vs. Zombies
Prime World: Defenders
Prince of Persia: The Forgotten Sands
Quake 2
RAGE
RAGE 2
Sacrifice
Shadowgrounds
Slime Rancher
Sonic the Hedgehog
Spellforce
The Stanley parable
StarCraft
StarCraft: BroodWar
StarCraft 2: Heart of the Swarm
StarCraft 2: Legacy of the Void
StarCraft 2: Wings of Liberty
Stardew Valley
Steamworld DIG
Super Mario Bros
Super Mario Bros 2
Super Mario Bros 3
Super Mario Bros Wii
Super Mario Land
Super Mario World
The Survivalist
Torchlight
Torchlight 2
Torment: Tides of Numenera
Trine
Truxton
Two Worlds II
UFO: Afterlight
UFO: Aftermath
Wasteland 3
The Wolf Among Us
World of Goo
X-COM: UFO Defense
XCOM: Chimera squad
XCOM: Enemy Unknown
XCOM 2

Other games I've played a lot:
Age of Empires (both before defenitive Edition and after)
Among Us
Apex: Legends
Bejeweled 3 (All achievements in Steam)
Burnout Paradise
Borderlands 3
Borderlands: The Pre-Sequel
Chess (online and vs. AI)
Counter-Strike (beta 5.2 and forward)
Counter-Strike: Source
Counter-Strike: GO (Best rank: LEM)
Craft the World
Darkest Dungeon
Deep Rock Galactic
Defend Your Life
Divinity: Original Sin 2 (Definitive edition)
Dorfromantik
Dungeon of the Endless (A few different types of wins)
Dungeon Seige
The Elder Scrolls: V: Skyrim VR
Endless Legend (A few different types of wins)
Endless Space (A few different types of wins)
Endless Space 2 (All types of wins)
Fallen Enchantress
Fallout 76
Fallout Shelter
Forager
Graveyard Keeper
Heroes of Might & Magic 6
Heroes of Might & Magic 7
Hospital Tycoon
Horizon Zero Dawn
Killing Floor
Left 4 Dead
Lost Lands: Mahjong
Magic: The Gathering 2014
Master of Orion
Medieval Dynasty
Mega Bomberman
Minecraft
Minecraft Dungeons
My time in Portia
Need for Speed: Hot pursuit
Neverwinter
Neverwinter Nights
NHL 93
NHL 94 (Whole seasons)
NHL 97
Path of Exile (Several Level 90 characters)
Pathfinder: Kingmaker
Pathfinder: Wrath of the Righteous
PUBG (Playerunknown's Battlegrounds)
Raft
Risk of Rain 2
Rollercoaster Tycoon
Rome: Total War (Won with some factions)
Settlers of Cataan (online)
Sid Meier's Civilization V (A few different types of wins)
Simply Chess
Solitare
Sonic & All-Stars Racing Transformed
Starbound
StarCraft 2 (Master Rank 2on2 my best (Diamond 1on1))
Stardew Walley
Tetris
Terraria
theHunter: Call of the Wild
Thrownbreaker: The Witcher Tales
TripleTown
Valheim
Vampire: The Masquerade
Verdant Skies
Warframe
Wasteland 2
Wii Party
Wii Sports
Wingspan
Wolcen: Lords of Mayhem
Worms
Worms 2
XCOM: Chimera Squad

Strengths and weaknesses:
I envision myself working on the music for a major game release in the future. The "how" and the "when" is, however, unknown. But I'm not in a hurry. I do this out of passion and will continue to produce various music even while not in any game project. I do believe that I would be the perfect fit to several serious game projects out there. I'm dedicated, I'm on time, I'm versatile. As seen from the lists above I have wast experience in the world of games and game music, so I understand how to set different moods to different parts in most types of games.

I do, however, have a functional life where I am. I have a family of four and a night time job that I would have a hard time leaving. As I understand it, most serious projects require that you are physically present at studio location. With this in mind I'm kind of diminishing my chances with not wanting to move. But perhaps there is a perfect opportunity that would meet these conditions.

The closest I've come a serious game project was project Ironfist. I had daily contact with the creative coordinator and we seemed to get along well. While in the middle of producing my first song for the project, I sadly got cut off since the recruitment process apparently was still not stopped. This is the finished song: